Collages are a fun way to combine multiple images into one, and say you can create greeting cards etc. CollageIt helps you to create good-looking collages without much difficulty. CollageIt is an easy-to-use and automatic collage maker. There are only three steps to make your collage: add photo, set parameters and generate collage preview, save collage as image format, such as BMP, JPEG, PNG, TGA, GIF etc.
Features:
Realtime preview
Number of photo, photo space, photo frame, shadow, page margin, auto rotation mode, sparse mode, page size and background setup.
Support creating collage with few photos to 100 photos. The "Auto rotation mode" and "Sparse mode" make the collage more varied.
ScreenShot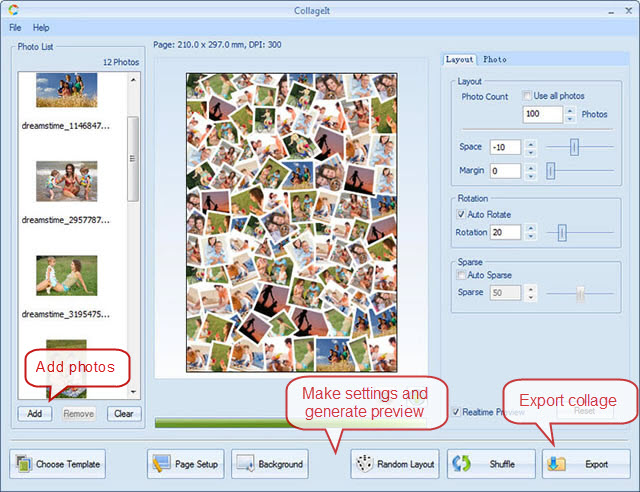 CollageIt requires
.NET Framework 4
to work. The installation file is ~ 4.6MB. Software consumes very little memory and is pretty fast. Anybody can use it with ease. I've used this software and is recommended!
There is a FREE version available but PRO version gives you following benefits
Removes watermark on the collage and the annoying splash screen.
Crop photo.
Removes size limit.
FREE lifetime support.
Now you can get this amazing software for FREE!
PearlMountainSoft
is sponsoring 20
CollageIt Pro
licenses for
All 'U' Want
followers! All you have to do is,
Facebook 'Like', tweet and +1 this post! (Share it with everyone!)
Subscribe to our RSS and Email Subscription.
Join our group on FB!
After the above steps contact me with your email / leave a comment.
(If you are not in facebook/twitter/google+ just subscribe to our email update service and send me a license request!) you will get a Collage It license key worth $19.90 for FREE!